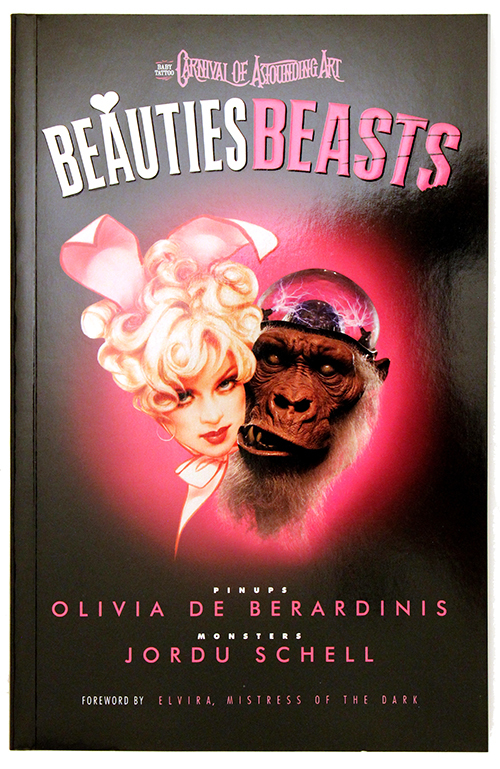 Beauties Beasts
共有商品
著者:
Olivia De Berardinis & Jordu Schell
Step right up, Ladies and Gentlemen! Gasp in awe at an epic pairing of impossibly beautiful ladies and gloriously grotesque monstrosities! Connoisseurs of the unusual are cordially invited to marvel at the spectacle of "Beauties Beasts", a first-of-its-kind melding of the creative talents of Olivia De Berardinis (world's greatest living pinup artist) and Jordu Schell (legendary creature creator). These two world-renowned artists have never been showcased together... until now. This book is a full-color catalog of the wildly popular "Beauties Beasts" exhibition that premiered at the Oceanside Museum of Art. Dare to enter a visually mesmerizing realm of sexy sirens and sinister super-freaks unlike anything you've ever imagined. Behold the spectacle of "Beauties Beasts"!
その他のビュウ
追加
Jordu Schell has been in the film and television industry for over 23 years. His talent as a designer and sculptor is world renowned and his credits include the forthcoming "Avatar", "The Chronicles of Narnia: Prince Caspian", "300", "Hellboy", "Aliens vs. Predator – Requiem", "Men in Black", "The Mist", "Batman Returns", "Edward Scissorhands", "Alien: Resurrection", "The X-Files Movie", "Predator II", "Galaxy Quest", "Evolution", "Babylon 5-The Series", and many more.
If you would like us to stock more of this item, please contact us. Note that we may not be able to re-stock all items.
あなたも考慮されるかもしれません